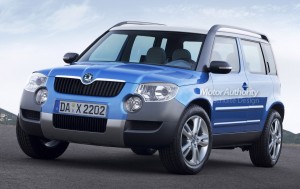 Compact, attractively styled and full of surprises: This is Skoda Yeti. Very similar to the original Yeti concept, seen at Geneva in 2005, the production version adds five doors and a simpler front end, with a traditional Skoda grille and spotlights.
Skoda also showcased Yeti Concept at the Auto Expo 2008. It will be launched this year globally and Skoda may bring it in India in 2010. This 4.2 metre long, five-door vehicle bears the well-known features of the brand. An impressive front end with a ribbed grille and friendly looking headlamps confidently demonstrate

Yeti`s relationship with the Skoda family. Sturdy flanks and distinct wings give Yeti its robust and solid look on 17 inch wheels, without coming across as bulky and heavy. The Yeti is a clever response by Skoda Auto to the increasingly important ecological issues in the popular and growing SUV class.
Skoda has met the demands for a cleanly styled body, a high seat position and versatile operating options with a design, which despite its robustness, exudes lightness rather than bulky shapes. The Yeti also meets the needs for environmental care, luggage space, safety and great road holding.
The Skoda Yeti is very well equipped for load lugging, too. The luggage compartment volume is highly flexible; up to 1,760 liters is available by removing the rear seats. A luggage cover and net as well as lashing rings are available to secure any load.
The Skoda Yeti is a clever compact vehicle that is bound to create a stir. Excellent handling characteristics and high agility are features of all trims. The 4×4 variants are characterized by outstanding off-road ability and excellent traction, coupled with low emission values and fuel consumption.
Video of Skoda Yeti: